COMP-PASS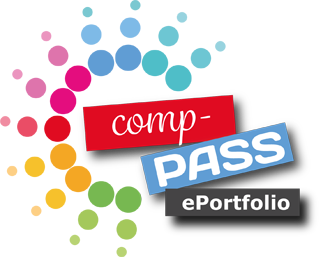 Your new asset to find a job
More efficient than a CV !
More complete than a classic portfolio !
Already have an ePortfolio ?
Please login below
Interested in having your own COMP-PASS eportfolio ?
Just send us a message with your name, surname, email address and one of the languages available (see above). We will create one for you !
COMP-PASS eportfolio : What is it ?
It's an online service that allows you to present yourself to future employers in an innovative way !
When applying, in order to present themselves in the best possible light, candidats should make an effort to summarize themselves efficiently and in a succint manner.
On the contrary, the recruiter will need more tangible elements than just a resume and a cover letter such as : work certificate, degree, reference letters, …
The COMP-PASS eportfolio answer this double injunction whilst creating a unique space and an innovative service that will allow you to present yourself in an exaustive manner. Thanks to this tool, you will be able to make available all the documents that the recruiter will need.
Your future recruiter will be able to access all your information if you want to share it with them !
As good a chance to catch the eyes of the recruiter, as good a chance to find the right profil !
What can I do ?
Once you have created your online profile, you will be able to :
fill in your own eportfolio with your competences, experiences and personnal information.
integrate link to videos, online documents, diplomas, reference letters, etc
edit your online CV
auto-evaluate your own competences regularly.
Disclaimers

This project has been funded with support from the European Commission. This publication [communication] reflects the views only of the author, and the Commission cannot be held responsible for any use which may be made of the information contained therein.